The recruitment and selection process is about much more than just choosing someone that matches the Interviewer's personality. It is about finding the best talent for your organization's culture – people who demonstrate the skills of the job and, more importantly, possess the ability to not only do the job well, but also to make real contributions and help grow the job in the right way to accomplish the vision and business goals of your organization.
When you call ALESYS, we can discuss your recruitment needs and your future goals, and then customize our recruitment training program for you. ALESYS' certification process for Recruitment and Selection Skills will take your organization's staffing process to a whole new level!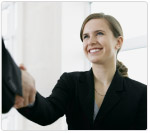 It's all about people – the people who make everything happen in your organization. Finding the right people for specific jobs is the essence of what successful recruiting is all about, and selecting the best talent is what assures your competitive advantage.
Finding the best talent is a formula. Your Recruiters and Interviewers need world-class recruiting and interviewing skills that will keep your organization ahead of the pack! Our certification program makes sure it happens.
We'll help you discover the art and science of recruiting and selecting the best talent. Then, we'll teach the skills (the process) for continued success.
Benefits of AL
E

S

YS'

Recruitment and Selection Skills Training:
Leaders who clearly understand their role in hiring the very best talent.
Significantly improved skills for anyone who must recruit, interview and/or select the very best talent.
Leaders who accept responsibility for ensuring the best fit for qualified candidates to serve the business needs of the organization.
Customized
Recruitment and Selection Skills Training
ALESYS customizes all training solutions to accomplish the specific business goals and address the performance issues of our Customers.
Customizable programs are the best way to ensure you will realize the behavior changes and bottom-line results that must be the outcome of any training you sponsor.

All programs designed by ALESYS bear our Designed for LearnabilitySM seal, which is our assurance to you that your program has been designed and developed to achieve maximum learning.
It is our Guarantee to you of a quality-built learning solution.